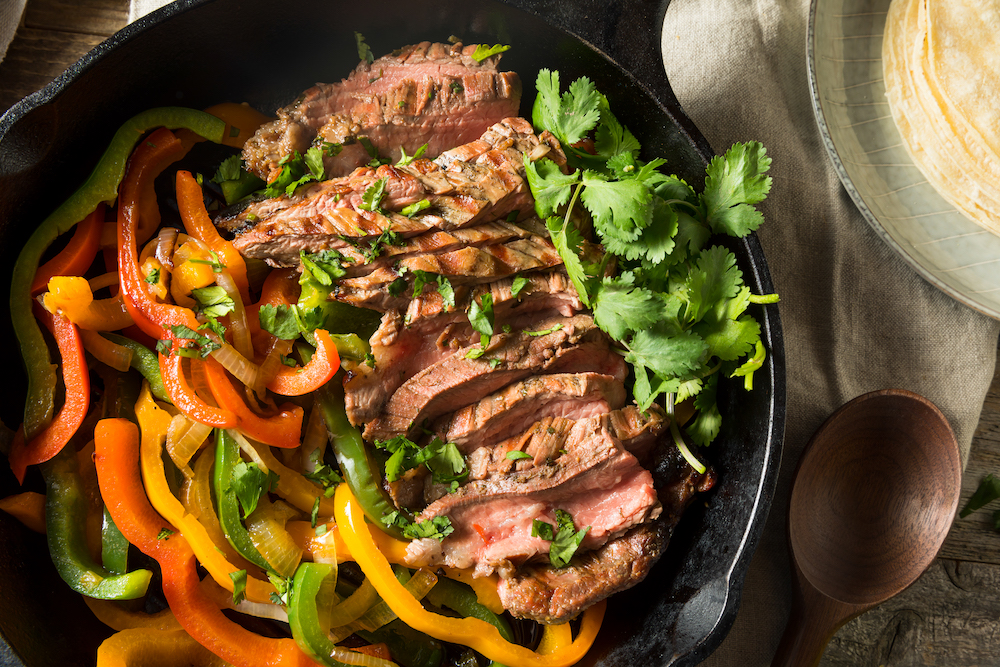 We love this recipe from the Cookie Rookie!
Ingredients:
For the meat: 
½ cup low-sodium soy sauce
½ cup fresh lime juice 5-7 limes
Juice from 1 large orange
½ cup canola oil
3 tablespoons packed dark brown sugar
2 medium cloves garlic minced
2 medium jalapeno peppers seeded and diced
1 tablespoon fajita seasoning
1 teaspoon ground cumin
1 teaspoon freshly ground black pepper
Kosher salt to taste
2 pounds of quality Hertzog trimmed skirt steak cut with the grain into 5-inch pieces
For the Fajitas:
3 medium bell peppers red, yellow & orange, stemmed, seeded and cut into 1/2 –inch-wide strips
1 large green bell pepper stemmed, seeded and cut into 1/2 –inch- wide strips
1 large yellow or white onions cut (stem-to-steinto ½-inch-wide strips
12 (8-incflour or corn tortillas warmed
Instructions:
For the Meat & Vegetables:
In a medium bowl, whisk together soy sauce, lime juice, orange juice, canola oil, brown sugar, minced garlic, fajita seasoning, jalapenos, cumin and black pepper. Season to taste with salt.
Pour ½ cup marinade in a large bowl or a gallon-size zip-loc bag; set aside.
Transfer the cut steaks to a gallon-sized zip-loc bag and pour the marinade over the steak. Squeeze out excess air from the bag and seal. Massage the marinade over the meat until all the meat is fully coated. Transfer the meat (in the bato a pan large enough for it to lay flat and place it in the fridge. Refrigerate 2-10 hours, flipping the bag over often.
When ready to cook, remove the meat from the fridge 15-30 minutes before using. Before cooking the meat, wipe off the excess marinade with paper towels.
While the meat marinates, add the cut vegetables to the reserved ½ cup marinade and toss to coat. Refrigerate until ready to use, stirring occasionally.
To Cook the Vegetables:
30 minutes before ready to cook, preheat oven to 475°F and arrange the baking rack to the lower-middle position.
Line a large, rimmed baking sheet with aluminum foil, and spray the foil with nonstick cooking spray.
30 minutes before cooking, if using a charcoal grill, light the charcoal.
Remove the meat and vegetables from the fridge.
Use paper towels to wipe off the excess marinade from the meat.
Use tongs to transfer the vegetables to the prepared baking sheet, shaking off excess marinade as you work.
Transfer the vegetables to the oven when the meat is cooked and removed from the grill (or stovetop).
Cook the vegetables 4 minutes, toss to redistribute and cook another 4-5 minutes or until fork-tender and slightly charred.